Whilst writing this report for how the property market performed in October, I did not expect to be in a second lockdown, nor the fact that property purchasers vs last year were 64% up! However the first thing to say, is that its the first Month that we have seen a drop across all key areas : New Instructions, New Sales Agreed, Price Reductions, Available Properties & Daily Views. Does this mean the very big bubble we have been in is now starting to deflate?
It was only last week that it was announced that new mortgage approvals are at a 13 year high - the highest they have reached since September 2007 with 91,500 new mortgages agreed.  This is 25% higher than it was in February this year, a month before the pandemic first started to take hold.
Demand for property is still much higher than previous years. athough down month on month. Despite being in a new lockdown, house hunters are still requesting to view properties and the diaries are filling. The housing market though isn't without its difficulties.
At the lower end of the market, first-time buyers are now struggling to obtain mortgages.  It has been reported that 1 in 8 people are struggling to pay their rent and as bars, restaurants and retail outlets have to once again had to close.

Here are your statistics & figures for October.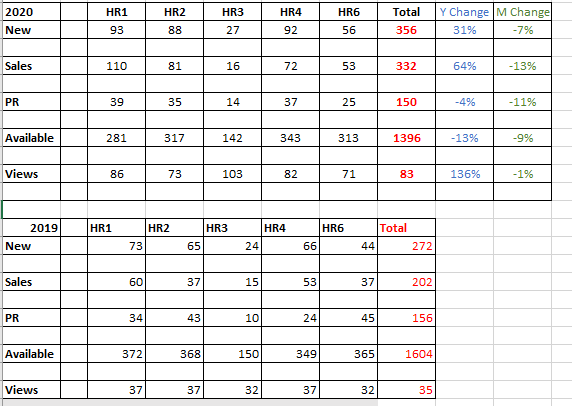 Although the monthly statistics are down across all the points I report on, the property market is still buyont with the last chance to be able to take advantage of the Stamp Duty Holiday about to be over (or run out of time).

We've now entered a second lockdown, although the housing sector can still operate under Covid safe policies, Valuations and Viewings can take place, although adviced to watch agents virtual tours first. You can see our JACKSON VIEWING POLICIES here.

Nobody knows how this month and the run up to Christmas will play out, although time is running out fast for buyers to take advantage of the governments incentive on Stamp Duty.

We are strongly advising clients to launch within the next couple of weeks, or hold off until Boxing Day to beat any other house sellers looking to sell after Christmas.
We are now looking to help more home buyers and have a shortage of properties to sell. If you are wanting to get moved before the stamp duty deadline, now is really the last month to be putting your home up for sale. The next few weeks are crucial for this!
If you are thinking of moving, please get in touch. We can create a bespoke moving planning for you. All our appointments are carried out in the safest possible way and in line with Government guidance to ensure we are all COVID secure.

Thanks for reading.

Nathan Jackman-Smith

PS. We run a 'DO NOT DISTURB CAMPAIGN' over the holidays