Sellers are pricing their products more competitively, resulting in a year that exceeded expectations.
Average new seller asking prices drop by 1.7% (-£6,088) this month to £362,143, as Christmas approaches and sellers continue to adopt more pricing realism to attract a buyer

Though the transition from the frenzied pandemic market back towards more normal activity levels has been slow, key indicators point to a year that so far has been better than many predicted following the turbulent end to 2022:

Average asking prices are just 3% below May's peak, but pricing right the first time remains key to securing a buyer

Sales agreed are now 10% below 2019's more normal market level, improving from 15% below last month

The pandemic-driven stock shortage is over, with available properties for sale now just 1% behind 2019

However, some regions and market sectors continue to transition better than others to the need for more enticing pricing:

The number of sales being agreed for studio, one-, and two-bed properties is just 7% lower than 2019's level, compared to four-bed detached houses and all five-bed plus properties, where agreed sales are 14% behind 2019

While there are yearly price declines in the Midlands and all Southern regions, by contrast Wales, Scotland and the North of England have seen rises in the price of newly-marketed properties

Two consecutive Base Rate holds has helped to keep buyer demand in line with 2019's level. Now, many will be looking to the forthcoming Autumn Statement and hoping for more than a renewal of the mortgage guarantee scheme
New seller asking prices drop by 1.7% (-£6,088) this month to £362,143. Asking prices usually drop at this time of year, as serious sellers price more competitively to attract distracted buyers in the lead-up to Christmas. However, this year's November drop is the largest in five years, indicating that new sellers are also increasingly adopting more realistic price expectations from the outset of marketing to tempt potential buyers to act. As we approach the end of 2023, key indicators point to a market that while challenging, has been more positive than many predicted.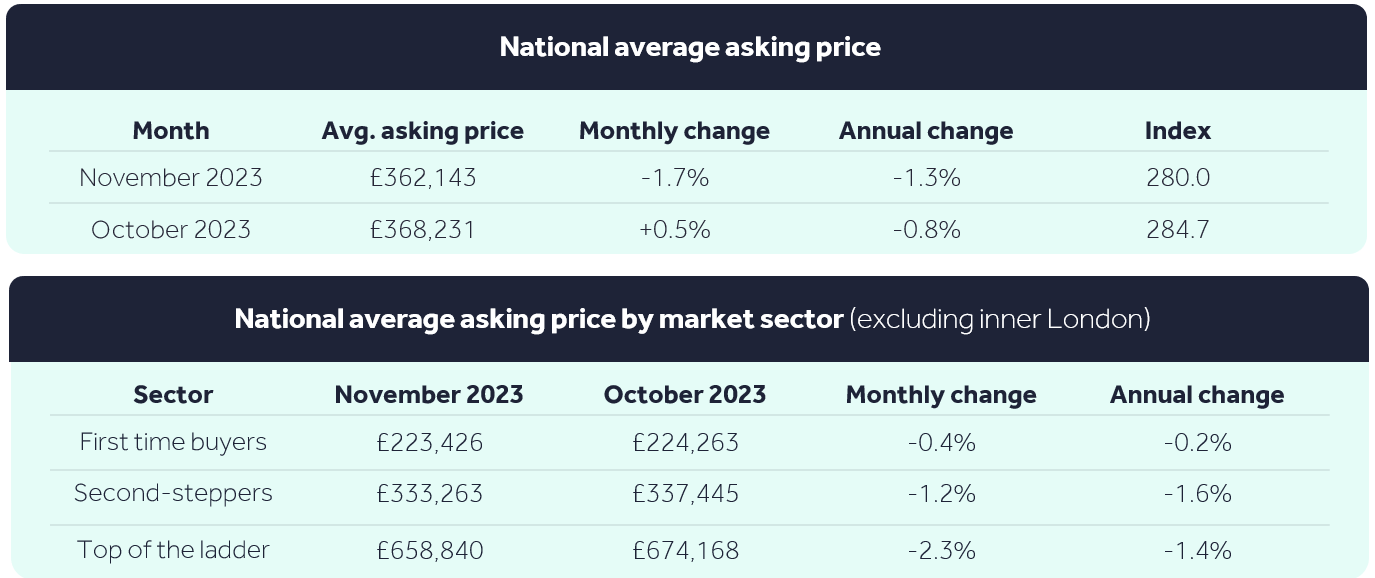 Source: https://www.rightmove.co.uk/news/house-price-index/?utm_medium=emailutm_campaign=cus-ea-all-nh-market-update-hpi_13-11-23&utm_source=adobe