Rightmove have released their lates House Price Index, with some very interesting reading!...
Average asking price of property coming to market in Britain hits a record this month, 2.4% (+£7,640) higher than in March pre-lockdown, and the 3.7% annual rate of increase is the highest since December 2016
Mini-boom gathers momentum as all nations reopen and Britain gets moving again:

Year-on-year buyer enquiries up 75% in Britain since the start of July
44% of new listings that came up for sale in the first month after the English market opened on 13th May have already been marked as sale agreed, compared to 34% for the equivalent dates last year
Number of monthly sales agreed is up 15% in England on last year, and in the five days after the stamp duty announcement it jumped to 35% up on the same days a year ago

Total available stock has now recovered to being just 13% down in Great Britain, and the stamp duty holiday may encourage more to market to ensure they have plenty of time to move before the March deadline
Further boost to market activity – and especially for first-time buyers – with more low deposit mortgages available for up to 90% of the purchase price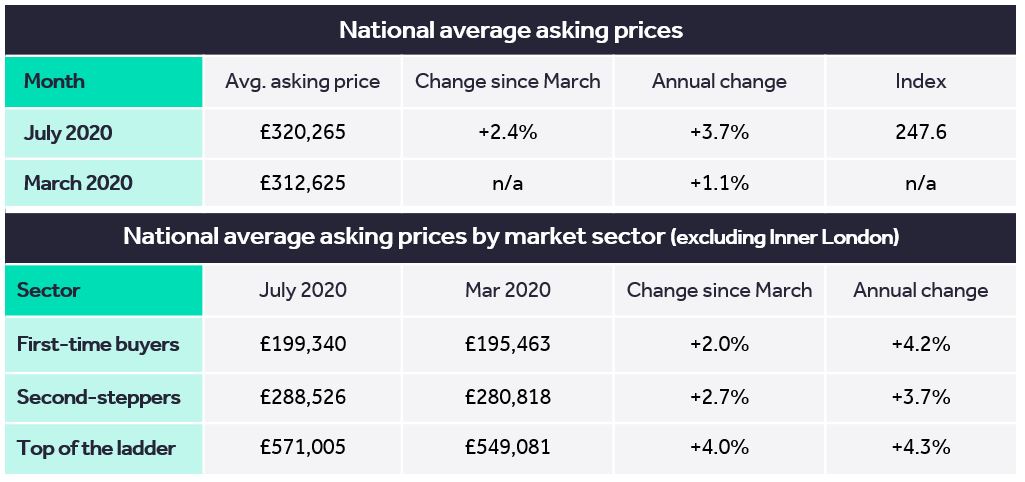 Properties throughout Britain are finally able to come to market again, and they are doing so at a new record average asking price due to an unexpected mini-boom. The average price of property coming to market is £320,265 this month, up by an average of 2.4% (+£7,640) compared to March before the housing market was put on hold. Last month's report could only refer to English prices, but there is now sufficient new seller asking price data for Scotland and Wales to restart Rightmove's national index, and the new all-time high follows on from March's £312,625 record in the busy market before lockdown. The price of property coming to market is an accurate early indicator of demand, evidenced by unique buyer enquiries currently being up by 75% so far this month compared to the same period a year ago. The number of sales being agreed so far this month is also exceeding the prior year's figures in all three nations.
Miles Shipside, Rightmove director and housing market analyst comments:"The unexpected mini-boom continues to gather momentum as more nations reopen. Overall buyer enquiries are up by an incredible 75% year-on-year in Britain and we expect activity will increase even further as Scotland has not yet been open for a full month, and Wales still has some housing market restrictions in place.
The busy until interrupted spring market has now picked up where it left off and has been accelerated by both time-limited stamp duty holidays and by homeowners reappraising their homes and lifestyles because of the lockdown. The strength of buyer demand has contributed to record prices, with the 3.7% annual rate of increase being the highest for over three and a half years. These figures are the earliest indicator of house price trends. They show on average prices gently rising not falling, and this will be reflected in the coming months in other house price reports."
Current activity levels clearly show that Britain is getting moving again, with the number of properties coming to market up by 11.1% this month compared to a year ago despite Scotland and Wales not contributing for the full period, and total available stock recovering to being just 13% down. The market is now in full flow with 40,741 (44%) of the 92,085 newly listed properties in the first month after the English market reopened having already found a buyer, compared to 34% for the equivalent dates last year. The stamp duty holidays, which are now expected to run until 31st March in all regions of the UK, are a further incentive to come to market now.
Shipside adds:"There is a window of opportunity for sellers to come to market and to find a buyer who is tempted by the stamp duty savings. Although March next year may sound like a long time away, in reality sellers need to find a buyer before Christmas, to allow a further three months for completion of the legal process to beat the deadline. While property is selling much faster than a year ago, it's important not to over-price and miss this window. It's still a price sensitive market with buyers having limits on what they are able to borrow, and the uncertain economic outlook making them more cautious."
The immediate effect of the stamp duty cut in England has been to amplify the buyer surge. The number of sales agreed in the five days after the announcement (between the 8th and 12th July) was up by 35% on the same days a year ago. This is significantly higher than the 15% increase in sales agreed numbers in England measured in the month of June before the announcement.
Shipside notes:"While most first-time buyers will not benefit from the stamp duty holiday, as they were already exempt from stamp duty on purchases of up to £300,000, many will benefit from lenders now starting to bring back first-time buyer mortgages for up to 90% of the purchase price. Lower-deposit lending helps to boost buyer activity on the all-important first rung of the ladder, which in turn helps to boost the numbers of second-steppers who are able to trade up, and so also enables others higher up the chain to move."

Thank you to Rightmove for their continued updates and insights into the market