If I had a penny for everytime someone asked me 'When should I advertise my house', I would be retired at mid 30s...However, its now a question that really must be asked to take advantage of the Stamp Duty Holiday.
According to NAEA Property Mark, the date you need to advertise your property to be in with a realistic chance of making the March 31st dealing is SEPTEMBER 26th.
Why this date?
Selling a property is a complicated process, with several stages and multiple people involved to get through the whole process to completion.
According to data from ViewMyChain.com, receiving an offer once the property is on the market can take around ten weeks, your buyer arranging a solicitor can take well over a month and arranging their mortgage can take up to six weeks, and that's just a few of the tasks the buyer has to tick off. The solicitors, surveyors and estate agent will also all have their own tasks to complete before the job is done. When all combined, the average time it takes to sell a property from going on the market to completion is six months.
With this in mind, you should give yourself plenty of time to sell your property so that you have the best possible chance to take advantage of the stamp duty holiday. By getting your property on the market by 26 September, you will do just that.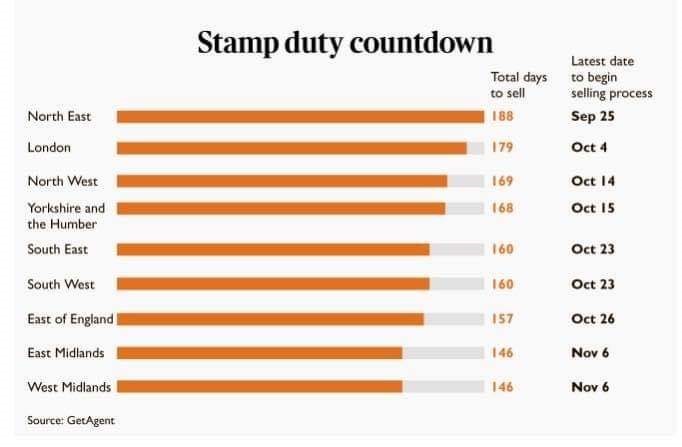 What else can I do to help sell my property in time?
The best thing you can do to ensure your property sale goes through quickly is to ask your estate agent for a copy of the Propertymark Sales Protocol Toolkit. The Sales Protocol Toolkit is a combination of questionnaires that when completed, will ensure you have all the information about your property ready to go.
You will also need to assemble copies of some important documents, including:
A copy of the lease (if the property is leasehold)
Documentation related to the freehold (if the property is freehold)
FENSA certificates for replacement windows
Your Energy Performance Certificate (EPC)
Relevant building restrictions
Building regulation certificate when alterations have taken place
A Gas Safety certificate for a new boiler
Completing the Sales Protocol Toolkit and having all these documents ready is proven to shave time off your property sale, which in the run up to the 31 March, could save you a substantial amount of money.
If you would like a FREE INSTANT ONLINE VALUATION, please use THIS LINK

If you need any help, tips or guidance, please downloand our ESSENTIAL SELLERS GUIDE.

Nathan Jackman-Smith