Average rental prices have increased by 2.7% year-on-year to hit £979 per calendar month (pcm), HomeLet's rental index data for December shows.
Excluding London, the average rent in the UK is now £838pcm, showing an increase of 5.7% on last year, according to the figures.
Nine of the 12 regions monitored by HomeLet showed annual growth in rental values between December 2019 and December 2020, with the South West seeing the largest increase for the fourth consecutive month.
Summary by Region for Average Agreed Rental Values in the UK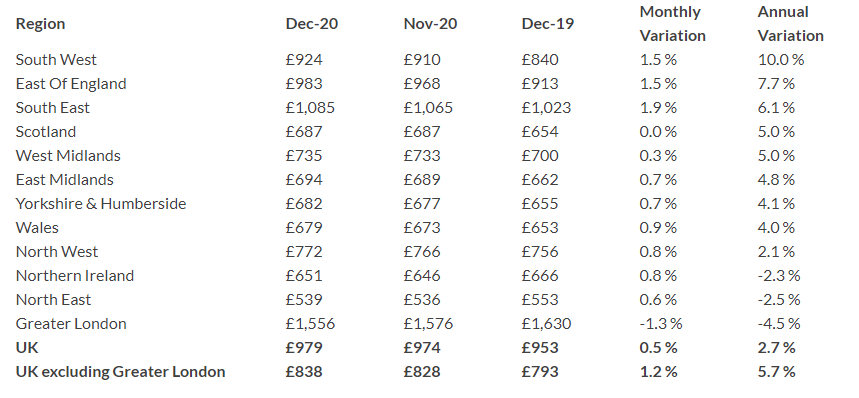 Andy Halstead, chief executive at HomeLet, said: "At a national level the latest data shows a continuation of the trends we've seen emerging since the national lockdown ended, with rents for new tenancies increasing across the UK, with the exception of London.
"In the regions surrounding London, the annualised variations in rental values for new tenancies looks significant.
"In reality this is a theme that we've seen grow gradually month on month, since July 2020.
"The trends we've seen in the past 12 months highlight the responsiveness of the private rented sector, and the crucial role it plays in supporting the changing needs of a significant proportion of households in the UK."
He added:
"Whilst overarching optimism remains strong for 2021, with vaccines being rolled out for Covid-19, we can still expect a year that will be disrupted by the impact of the virus.
"With the new national lockdown and the prospect of additional restrictions to help curb the impact of the virus and new variants, we can expect the demand for certain property types and locations to grow, pushing rents up."

Source: https://propertyindustryeye.com/rental-prices-continue-to-rise/

If you would like to gain a FREE INSTANT VALUATION of your property, Visit our Webiste HERE