When reporting in December on the November Herefordshire Property Market update, the UK housing market was still defying the economists views that it would drop off and sales would slump. Herefordshire was also in Tier 2 of what was the Tier Lockdown laws at the time. Fast forward another month and things certainly took another interesting turn.
Today, a month on from that report, Herefordshire has moved from Tier 2 to tier 1, up to Tier 3 and then National lockdown, all whilst Christmas, New Years and 'Household Bubbles' were in the middle.

As of writing, the industry are still trying to persuade the government and Rishi Sunak to extend the Stamp Duty holiday beyond the March 31st 2021 deadline. Everybody is hopeful that that Lockdown 3.0 will be the nail in the coffin for the government to cave it and offer some sort of extension to this.
There is still the major concern that 40% of current Sold Subject to Contract properties will not complete before this deadline, but property is still currently in high demand, possibly putting even more pressure on straining solicitors and mortgage lenders. Although the monthly change is down with activity, this was certainly expected considering Christmas and the November lockdown/Tier restriction, however the Yearly Change is the big significant change.

Here are your statistics for December 2020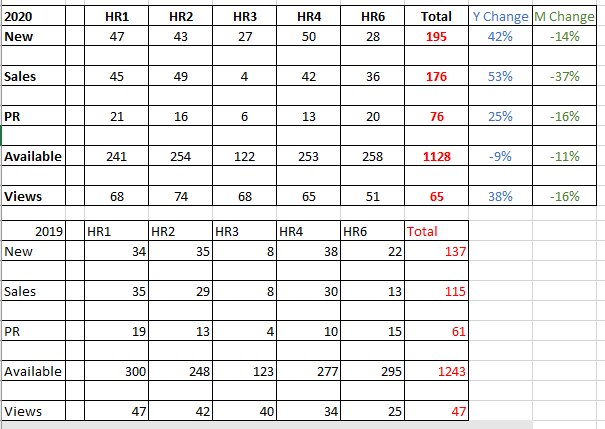 December certainly was a strange month, not namely as the amount of Instructions were up 42% year on year, but more importantly sales were up 53%.
These all relate and show the views online are still high and translating into positive market activity.

When reporting in February 2020, before any Lockdown was enforced, Herefordshire had a monthly close of available property of 1424, where as the end of December, only 10 months late, the same region had a final figure of 1128, majority of these converting into sales rather than withdrawals.

2020 has been summed up extremely well by many on social media, it really has been a terrible year for some, whilst some buiness and people have thrived. The housing market clearly being one of these.

During my market updates, i rarely comment on the days into the current month, however with lockdown 3.0 being 4 days in, it certainly has had a mixed reaction. We have sold over 10 properties already, whilst understandably some people have cancelled appointents. Please be rest assured that agents across the county are conducting appointments in an extremely safe manner, we are agents as a profession but people with families as well, we want to protect people as best as we can whilst rolling with the cards we have been dealt.

Lets hope 2021 is a different year to 2020 for many. If you need any property advice then please do not hesitate to get in contact.
Many thanks for reading

Nathan Jackman-Smith
Director